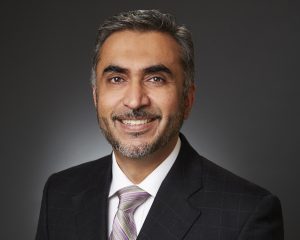 Medical School

University of Punjab – Lahore
Residency – Bronx, NY
Mount Sinai School of Medicine – Bronx, NY
Fellowship
Pulmonary and Critical Care Medicine, Albert Einstein College of Medicine- Bronx, NY
Sleep Medicine (adults and pediatrics), University of Texas Health Science Center
Interventional Pulmonary (Thoracic Surgery), University of Toronto
Board Certification
Internal Medicine November 2005
Pulmonary Medicine December 2007
Sleep Medicine November 2009
Critical Care Medicine November 2012
Affiliations
American Association for Bronchology and Interventional Pulmonology (AABIP)
American Thoracic Society (ATS)
American College of Chest Physicians (ACCP)
Honors/Awards
Resident Travel Best Paper Award
Winner Best Abstract of Founders Award
Research/Presentation (few of numerous)
Khan AM. (Letter) Adenoidectomy Outcomes in Treatment of Obstructive Sleep Apnea in Children. Am Journal Respir Crit Care Med. 183(6):826, Mar 15, 2011.
Khan AM, Manzoor K, et al. Review article, Thoracic Splenosis- Know It and Avoid Unnecessary Investigations… Gen Thorac Cardiovasc Surg. 59(4):245-53.12 Apr 2011.
Khan AM, et al. Detection of Nodular Pulmonary Amyloid by PET Positive Scan. Deception for Lung Cancer. Rev Port Pneumol. 18(6):299-303.2012.
Khan AM, … Yasufuku K. Severe Acute Airway Obstruction… following Photodynamic Therapy. Photodiagnosis and Photodynamic Therapy. 2014 Jun;11(2):254-8.
Jalil BA, Tasufuku K, Khan AM. Uses, Limitations, and Complications of Endobronchial Ultrasound. Proc (Bayl Univ Med Cent). 2015 Jul;28(3):325-30.
Interests
Interventional Pulmonary with endobronchial ultrasound (EBUS)
Hobbies
Playing squash
Marathon running
Charitable work for local and national organizations
Personal
Married with three young children